3D tools in business strategy
Photorealistic 3D modeling has made it possible to create very diverse and very useful marketing and sales support tools for digital teams and sales forces.
Many solutions that "embed" 3D exist on the web. They respond to different strategic objectives.
To make a simple presentation of the multiple 3D solutions, it is first necessary to differentiate between the software applications that use 3D and the different 3D visualization techniques on the Internet.
For this second part, we refer you to the page that describes these web visualization solutions.

What answers do 3D tools provide for marketing, digital and sales strategies?
Offer product lines that are not manufactured.
Choose immersive technology, virtual reality headsets.
Co-design a product with its customers.
Virtual vision: augmented reality solutions.
Offer the customer the possibility of personalizing products.
3D solutions used to sell products that are not manufactured
One of the major questions answered by 3D modeling concerns the presentation of products that are not yet manufactured.
This question concerns, for example, brands that must carry out pre-sale operations of collections for boutique networks (and thus size the volume of production); companies that want to test new products for sale; those who manufacture on demand and who do not want to stock; or points of sale which cannot present the whole of a range of products.
The representation of photorealistic 3D models, on e-shops, extranet or in-store application is the answer to this problem.
For property developers, the matter is even simpler. Whether they are builders of individual houses or real estate complexes, the representation of a product for sale but which does not yet exist finds a simple answer with 3D virtual tours. Future customers can see a "3D insertion" in the environment of their future place of living and visit virtual model apartments… and even see exactly the view they will have of the future property of their dream.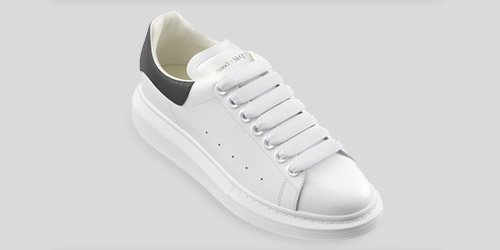 Company A. (under NDA) wishes to present to its network of "presales" shops or to its e-commerce customers a new range of basketball shoes with several possible variations. Before launching the manufacturing, a photorealistic 3D model is made and put online allowing a 360° visualization. Each concerned customer can see the final model, as if it existed before ordering. The company can thus test new products and know in advance the volumes to be produced.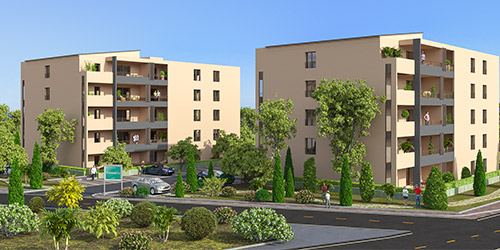 The real estate developer Oasis Groupe wants to show the location of its future residence and present the organization of the buildings in the real construction environment. It also wants to show, level by level, the master plan of each floor and offer virtual tours for each type of show apartment in order to convince prospects and facilitate the work of its sales representatives in the field. The 3D solution is used on the internet to capture the flow of customers and in sales bubbles to feed the commercial discourse and give confidence to the customer.
3D solutions used t

o customize products
The sale of personalized products is a strong trend. Each consumer wishes to have a different product from his neighbour.
Many companies have understood this need and offer product configurators so that each customer can create the unique model they are going to buy.
3D configurators make it possible to offer millions of different combinations of the same product. No photo shoot can meet the need to produce as many combinations of images as possible customization solutions. However, we know that in the conversion "tunnel", the customer wants a precise image of the product that he has just configured… and that he will only buy if he sees it.
The company Le Soulor manufactures top-of-the-range handmade mountain boots in France. The workshop makes it possible to manufacture fully personalized models on demand: color of sole, shoe upper, laces, eyelets, buttress, etc. On the range of shoes, it would have been necessary to take millions of photos… and even then it would not have been possible to have a 360° visualization of the products.
The choice of integrating a 3D configurator was obvious.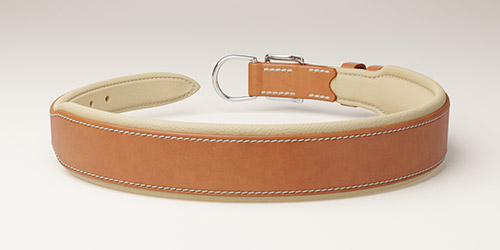 The Atelier Napoléon company makes handmade collars and leashes for dogs. This top-of-the-range leather goods for "our little friends" is infinitely customizable since each piece is made and assembled by hand. The development of a 3D configurator to allow the customer to customize the products has proven to be the most effective solution for developing sales.
3D solutions used to design products with and for its customers
In the process of customizing products or real estate, there are special cases where product customization borders on co-design. In cases where the customer wishes to define a very specific product which must be adjusted in shape, size, material, color to what he is looking for, the product to be ordered must be defined very precisely by the buyer.
The web interface must make it possible to design in 3D from an existing database of products, or real estate, entirely designed by the client.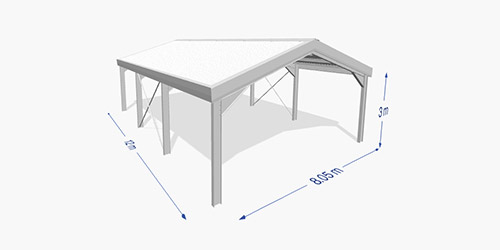 The Barbot-Fayat company designs and builds agricultural and industrial shelters and hangars. Buildings made of metal frame adjust according to construction rules defined in a configurator (length, height, span, type of wall covering, roof, type of door, accessories, photovoltaic cover, etc.).
The customer can fully design his agricultural or industrial building by choosing all the parameters he wants on web configuration software. As he customizes his hangar, the building changes in 3D until the final result.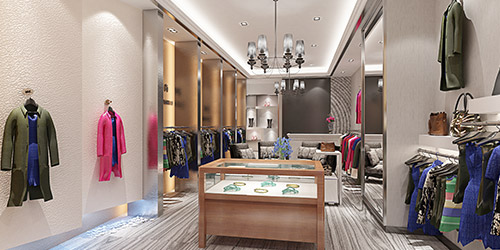 The store designer T. (under NDA) offers its customers the possibility of configuring the elements of their future store online. They can, on an online configurator, create shelving, add gondola ends, corners, fitting rooms, choose lighting… and view their creation online in 3D, then obtain a plan and an estimate.
3D solutions used

for photo shoots
3D models and textures now make it possible to render hyperrealistic 3D images. It is much less expensive to create a virtual set, to adjust lighting and environment, then to shoot in a chain and in a precise way products that will have been modeled in 3D before. Especially since in many professions 3D models already exist (models for foundries in jewelry, 2D patterns for the textile industry, etc.).
The packshots thus produced are of much better quality than a classic shot and the level of detail and zoom, including for jewelry, is impressive.
A more expert use of 3D for photo presentations consists of applying 3D models to models previously shot in the studio but without accessories. Accessorizing is then done with hyper-realistic 3D models. A single shooting session makes it possible to capture different positions for the mannequin, the 3D models of the products to be presented are then set up according to the range to be declined.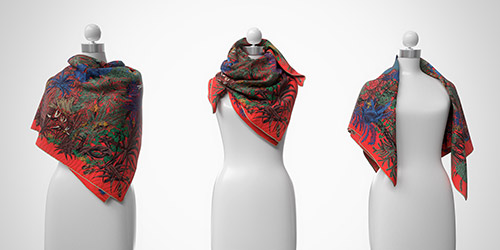 Company M. (under NDA) wishes to present products for their e-commerce site. The extraordinary quality of the renderings of 3D models, the flexibility of image design, the possibility of viewing in 360°, and the possibility of using images in "print" format led the brand to naturally favor the use of images made from very high definition 3D renderings.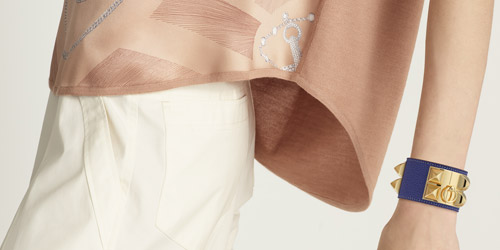 The company H. (under NDA) must present on its website the packshots of its products and also the same products put "in situation" on mannequins. After having carried out a photo shoot of the packshots from photorealistic 3D models, these same models "dress" the model shot beforehand to put the products in a situation.
3D solutions
for museography or events
3D modeling makes it possible to create virtual, fantastic or dreamlike universes and settings, to implement surprising technologies such as holograms, virtual mirrors, to present products that have disappeared or not yet been created, to immerse the public in an environment dreamlike or on the contrary very realistic… There are no limits. Brands, event companies or museums naturally use 3D modeling and then different visualization techniques (hologram, video, augmented reality, virtual reality) to present places, products or to bring exciting experiences to the audience.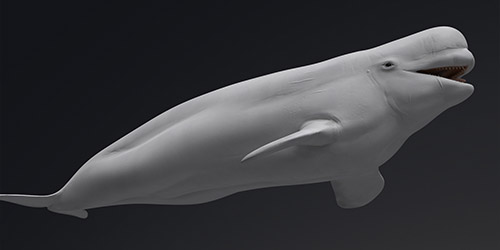 The world's major aquariums offer new 3D experiences in which virtual fish, or other animal species modeled in 3D, interact with the public according to predefined scenarios. The spectator, for example, "immersed" in the center of a virtual 3D aquarium finds himself at the heart of an interactive and captivating photorealistic 3D spectacle.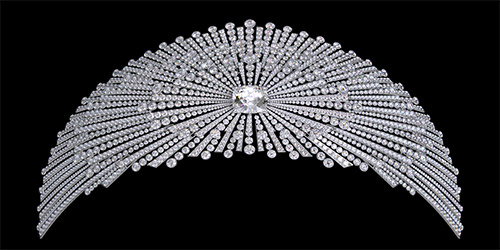 Maison Chaumet regularly exhibits the jewels that have made the House famous. Some pieces have disappeared over time, others belong to royal families and are not available for presentation to the public… 3D modeling and rendering are therefore essential as a presentation tool for the public.